Chez Maggie
Hotel & Restaurant
Morondava
Chez Maggie / TRIPADVISOR: 2012, 2013 & 2014 Certificates of Excellence
Ialy John 'Ludo'
Lead Guide: Remote River Expeditions - Madagascar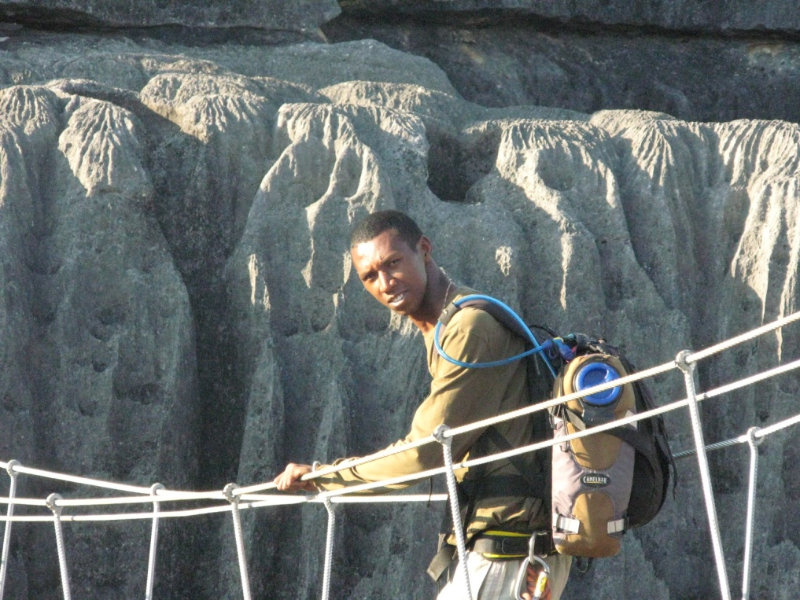 A Guide for All Seasons
'Ludo' is a licensed Malagasy naturalist guide fluent in Malagasy, French and English. Based in Morondava Ludo works throughout Madagascar and is much sought after for his extensive knowledge and personable manner. A true professional; great travel companion and fully dedicated to sharing his wealth of knowledge and love for Madagascar with all his clients.

Interpreting local circumcision event.


Travel Channel
Eating Zebu intestines of traditional Fest
Field of study:

~ Graduate of Languages Institute
~ Eco-tourism
~ Ongoing studies
~ Natural & Cultural History

Experience:

~ Naturalist Guide & Research Assistant: 13+ yrs
~ Interpretation: Museums, Culture & History
~ Wide ranging knowledgeable on all aspects of Madagascar's flora, fauna and culture
~ Part time English teacher

Consultant, Tour Leader & Logistics:

BBC; National Geographic; IMAX; Kew Garden; Travel Channel;

Specialties (include):

~ Fauna and flora
~ Developing & leading custom itineraries
~ Program consultant & planning
~ RRE custom tour leader (including):
"Succulents & Exotic Flora" ~ "Baobab Quest"
"Gems & Wonders of Madagascar"
~Rivers: Mangoky, Manamabolo & Tsiribihina

Memberships:

~ Bird of Africa
~ Club Vintsy and Ny Hasin'i MADAGASCAR (Green political of Development)

Tourist Guide Certificate
Just a few of the many comments from past clients:
"...of course, as you know, Ludo is a gem. His great knowledge of the flora and fauna added so much to our experience on our walks in the reserves, and we simply enjoyed being in his company."
"One of the best travel companions you can image ... an excellent Malagasy guide, expert and professional."
"...spoke excellent English ... He really took care of us from the time he picked us up until the time he put us on the plane to leave."
"Ludo and his crew served the most wonderful food in very remote conditions..."
"...always seemed to have anticipated what might happen ... Ludo had rolled out the red carpet in front of us and ensured that it was rolled up tidily behind us too! This really made the holiday, allowing us to relax and enjoy Ludo's deep knowledge of the local wildlife and flora."
And a couple of his favorite places & friends...
| | | |
| --- | --- | --- |
| Early Morning coffee on the Mangoky River | | Mom & Baby at the Tsingy de Bemaraha |
Remote River Expeditions in Madagascar, Ethiopia, Tanzania - River Trips and Tours
Experience the romance of East Africa. We invite you to join one of Remote River Expeditions' adventures into Madagascar, Ethiopia, and Tanzania and see the atrractions of those countries. Each trip is completely unique. Each expedition has its own special challenges and serendipitous, human connections. What you can expect in every instance, however -- and why many of our clients return, year after year - is an outstanding wilderness experience including great food, magnificent wildlife, and friendships forged that last a lifetime.

remote, rivers, rivertrips, river, trip, tour, rafting, east, africa, madagascar, ethiopia, tanzania, rafting, tour, camping, trip, expedition, challenge, wilderness, animals, birds, lemmer, gary, gallery, expeditions, birding, gameviewing, watercolor, paint, painting, whitewater, paddling, vacation, beach, Selous, Omo River, Rufiji River, Zambezi, Tsiribihina, Mangoky river, scenic, natural, cultural, conservation, floral, fauna, lemurs, safaris, Zambezi, birdwatching, adventure, exploration, Afrika, nature, Africa

All Rights Reserved
© 2001-2021 RRE