Chez Maggie
Hotel & Restaurant
Morondava
Chez Maggie / TRIPADVISOR: 2012, 2013 & 2014 Certificates of Excellence
Conrad Hirsh
CONRAD HIRSH: Portrait of an Adventurer
(1941-1999)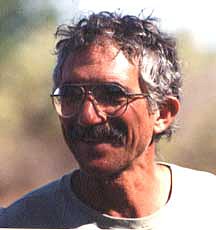 It is with great sadness that I announce the passing of my close friend and fellow river guide, Conrad Hirsh, founder of RemoteRiver Expeditions, who died on October 7th 1999, in Nairobi, Kenya, after battling brain cancer for which he had received treatment during the summer in London. A memorial service was held in Langata on December 5th, 1999. It was attended by over one hundred friends and relatives from around the world, including his brother Oliver, a musician from Denmark, and his son, Yohannes Conrad Hirsh, of Addis Ababa, Ethiopia.
The Conrad Hirsh Memorial Fund has been established to help support the Amboseli Elephant Research Project. Make checks payable to: African Elephant Conservation Trust. Please visit their site:
www.elephanttrust.org
Contributions may be mailed to:
Conrad Hirsh Fund
1309 West 50th Street
Kansas City, MO. 64112-1143
U.S.A.
Remote River Expeditions: A Memorable Journey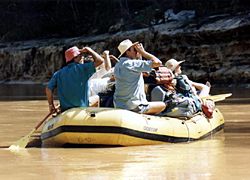 "His was an extraordinary life in so many ways. He had the privilege, and he always thought of it as a privilege, of exploring many of the wildest and most remote parts of Africa. He loved Africa, its landscapes, rivers, peoples, animals, cities and towns, but he was not selfish or possessive in that love. He enjoyed sharing it with others bytaking them on glorious adventures. In doing so he changed the lives of those visitors and Africa touched their souls"
- Cynthia Moss / Author, elephant expert & friend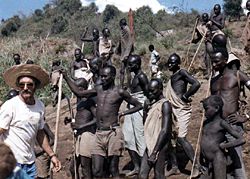 Born in New York City, educated at Reed College and Stanford, Conrad Hirsh went to Ethiopia as a Peace Corps Volunteer in 1964. He got involved with river-running through friendship with the founders of Sobek Expeditions who pioneered the Omo River in 1973. Conrad guided Omo River, Mt. Kilimanjaro climbs, and Rwanda gorilla trips for Sobek from 1979-1990, and first explored the Rufiji River in Tanzania in 1979. Other exploratory river trips that Conrad has led or participated in include: Blue Nile 1975, Betsiboka, Mahajilo, and Mahajamba 1985, lower Mahajamba 1987, Manambolo 1991, Mangoky 1992, Great Ruaha 1990, Tekeze 1996, Mahavavy 1998.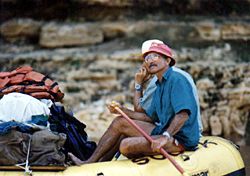 "To watch him in the bush, sighting lemurs and spotting birds, was more magical than seeing them with my own eyes. Conrad would light up and one could feel his pure joy of experiencing the moment. And that's when his silence spoke a thousand words. He truly was a part of nature."
- Client, Manambolo River
Conrad founded Remote River Expeditions in 1991 continuing to maintain a close connection with Mountain Travel/Sobek. Based in Nairobi beginning in 1978, Conrad spent much of the year in Madagascar (as much as possible) and time in Kenya and Ethiopia. He was fluent in Amharic, Kiswahili and French making him feel at home throughout East Africa. His special interests included birds and wildlife, cooking, tennis, live music, and of course, river exploration.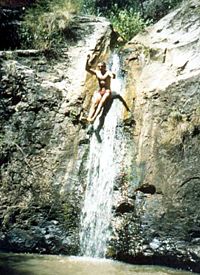 "He touched so many lives and made them better for it...we was an inspiration, a model for living life to itsfullest...he had a code that I always admired, and wanted to make my own. He made the world richer; and he made my life, and those in Sobek who knew him, finer and deeper...I will miss him."
- Richard Bangs / co-founder of Sobek Expeditions
The June 2000 Memorial Trip on Madagascar's Tsiribihina River saw a wonderful gathering of people from around the world. Members of the group were Mary Kettman, Sarah Fields, Gerard Ravoajanahary, Brian Gallagher, Rob Fallon, Charlotte Bildstedfelt, Joe Stoner, David K. Brooks, Poun, Maurizio Melloni, Erika Jenszen and Gary Lemmer. We were blessed with beautiful weather, few insects, many lemurs, excellent birds, nightly music, superb food, and a feature that would have made Conrad especially proud - a bit of romance.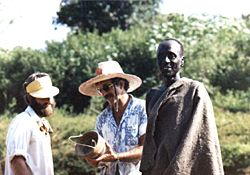 "...a literate, perceptive, witty often cranky adventurer, a skinny math nerd with the soul of a artist, who carved out a original, even heroic life on a wild continent, and in the process touched many, many lives.."
- Susan Dworkski / Graphic Artist, Writer, & Friend
On our memorable journey we shared the nightly cooking duties and the undeclared "contest in the kitchen" provided wonderful evening entertainment. A nightly feature was "Poun's Perfect Rice", and highlighted dishes included Erika's "Spicy Indian Eggs"; Joey's "Saut' du Artichoke Hearts" and Maurizio's "Pasta With Sand" not to mention frequent Malagasy delights by Chief Chef Gerard.
"Although it's easy to think that Conrad leaving so early is unfair, the truth is that's something we can't control. What we can control is how we live life, and Conrad did that fully and well, with lasting friendships and kindness, and a passion for exploration..."
- Madagascar River client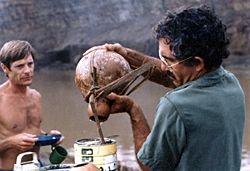 As with Conrad, Gerard's love of the wilderness was infectious. His expertise, and uncanny ability to "call in" birds and lemurs (and Pouns sharp eyes) assured that we didn't miss a thing. At night Gerard delighted us with his gifted guitar playing and songs in French, Malagasy and English.
"the best trip I've ever done, no other people for a week...no engines...what peace!"
Thanks to Conrad Remote River Expeditions exists today. Although he is no longer with us his legacy lives on. It's alive in the memories of those he shared time with and in the promise of the adventures to come. During our float, at his request, we left some of ashes and at the same time a part of ourselves. We invite you to share the magic first hand and experience the romance of East Africa in a most personal and rewarding way.
We hope you've enjoyed these words and images. We're continuing to compile stories, images, and remembrances of Conrad and invite you share yours with us. In turn, we'll be happy to share them with others through the website and (at a later date) for possible book publication. Also, if you've has lost contact with someone that you met through your association with Conrad, we'd be happy to try and put you all back in touch with each other. Let us know if we can help.
"When people ask me what do I think wilderness is...I think of my trip on Tanzania's Rufiji River with Conrad and Remote River Expeditions. When we were left off and the vehicles departed the nearest people were 120 kilometers off...that's wilderness.. a supreme wilderness experience...ah, and the birds!"
- Cynthia Moss
Again, many thanks to Madagascar Air Tours, Air Madagascar, Mary, Gerard, Brain, Poun, and everyone who participated in and worked so hard to make the Memorial Trip a success. See you on the water.
Best Regards,
Gary Lemmer
Remote River Expeditions
Remote River Expeditions in Madagascar, Ethiopia, Tanzania - River Trips and Tours
Experience the romance of East Africa. We invite you to join one of Remote River Expeditions' adventures into Madagascar, Ethiopia, and Tanzania and see the atrractions of those countries. Each trip is completely unique. Each expedition has its own special challenges and serendipitous, human connections. What you can expect in every instance, however -- and why many of our clients return, year after year - is an outstanding wilderness experience including great food, magnificent wildlife, and friendships forged that last a lifetime.

remote, rivers, rivertrips, river, trip, tour, rafting, east, africa, madagascar, ethiopia, tanzania, rafting, tour, camping, trip, expedition, challenge, wilderness, animals, birds, lemmer, gary, gallery, expeditions, birding, gameviewing, watercolor, paint, painting, whitewater, paddling, vacation, beach, Selous, Omo River, Rufiji River, Zambezi, Tsiribihina, Mangoky river, scenic, natural, cultural, conservation, floral, fauna, lemurs, safaris, Zambezi, birdwatching, adventure, exploration, Afrika, nature, Africa

All Rights Reserved
© 2001-2023 RRE