Chez Maggie
Hotel & Restaurant
Morondava
Chez Maggie / TRIPADVISOR: 2012, 2013 & 2014 Certificates of Excellence
Madagascar
"May I announce to you that Madagascar is the naturalist' promise land? Nature seems to have retreated there into a private sanctuary, where she could work on different models from any she has used elsewhere. There you meet bizarre and marvelous forms at every step."
- Philippe De Commerson, 1771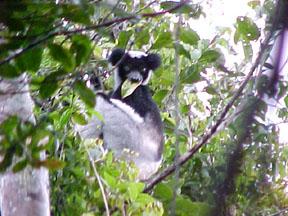 Although greatly changed by man since 1771, Madagascar remains a truly wonderful country with unique wildlife, bizarre plants, superb climate, and the nicest people you will find anywhere. Even the cities and towns are fascinating, thanks to some inspired architecture and the Malagasy love for flowers, music, and warm colors.
If you like camping, wild natural places, and exercising in gorgeous weather, then you will love a Madagascar river trip. Paddling takes you at a pace that allows you to take it all in and truly enjoy the tranquility of your surroundings.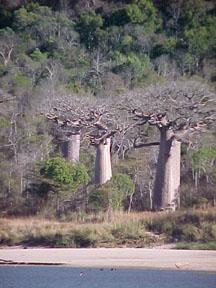 Floating through most probably the greatest collection of baobab trees found on the planet, the majestic Mangoky River in south-western Madagascar is a truly remote and wonderful river experience.
Our multi-activity program gives us exposure to a variety of ecosystems. Along with 7-days calm water rafting on the Mangoky River the program includes:
Andasibe-Mantadia (Perinet)
in the eastern rainforest; spiny forest of the southwest; beach & reef diving in Ifaty; Kirindy Forest Reserve; Avenue of the Baobabs and the tranquil coastal town of Morondava.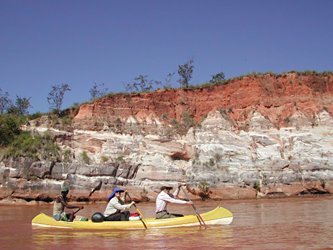 Explore the "Wonders of the West"! A wonderful way to reach the Tsingy de Bemaraha is by floating down the tranquil Manambolo River. Features include Andasibe (Perinet) National Park, the Kirindy Forest, Ave of the Baobabs and the Chez Maggie Hotel on the coast in Morondava. And a sampling of eastern rainforest.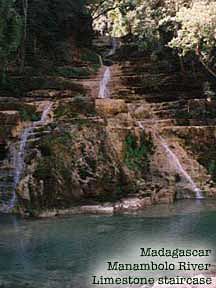 Madagascar at a Glance:
1000 miles long, larger than California (slightly smaller than as Texas)
80% of all floral and fauna endemic
95% endemic in the spiny forest area of the southwest
Lemurs, 30 Species, found only on the island
100 Mammals, all endemic (except bats and introduced)
Birds: 250 breeding Species (130 endemic species)
8,000 Species of flowering plants, over 1,000 native orchids
6 entire Families of flowering
150 species of frogs, all endemic
More than ½ the world's chameleons (70 cm to thumbnail size)
200 Species of reptiles, 90% endemic (no poisonous snakes)
Remote River Expeditions in Madagascar, Ethiopia, Tanzania - River Trips and Tours
Experience the romance of East Africa. We invite you to join one of Remote River Expeditions' adventures into Madagascar, Ethiopia, and Tanzania and see the atrractions of those countries. Each trip is completely unique. Each expedition has its own special challenges and serendipitous, human connections. What you can expect in every instance, however -- and why many of our clients return, year after year - is an outstanding wilderness experience including great food, magnificent wildlife, and friendships forged that last a lifetime.

remote, rivers, rivertrips, river, trip, tour, rafting, east, africa, madagascar, ethiopia, tanzania, rafting, tour, camping, trip, expedition, challenge, wilderness, animals, birds, lemmer, gary, gallery, expeditions, birding, gameviewing, watercolor, paint, painting, whitewater, paddling, vacation, beach, Selous, Omo River, Rufiji River, Zambezi, Tsiribihina, Mangoky river, scenic, natural, cultural, conservation, floral, fauna, lemurs, safaris, Zambezi, birdwatching, adventure, exploration, Afrika, nature, Africa

All Rights Reserved
© 2001-2023 RRE